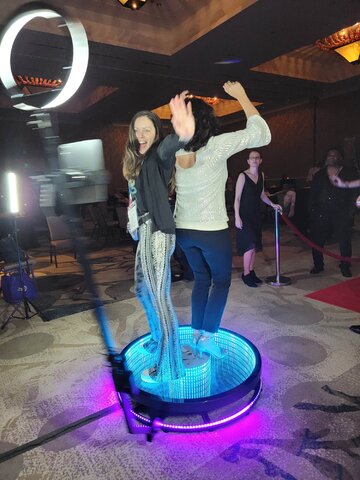 360 experience
Setup Area: 15x15
Outlets: 2
Attendants: 1-2 included




Introducing our state-of-the-art 360 video booth – the ultimate solution to elevate your event experience to Hollywood VIP standards. With this cutting-edge technology, your guests will be treated to an immersive and engaging video experience that will leave them in awe.
The 360 video booth features an LED lit platform and base, creating a captivating ambiance that draws guests in. The studio-quality lighting ensures that every angle is captured with crystal-clear clarity, while the two friendly and engaging attendants guide guests through the process.
With custom-designed video overlays, animated overlays, and custom music suited to your theme, your guests will be transported to a world of their choosing. The possibilities are endless, from a tropical paradise to a futuristic wonderland.
But the experience doesn't end there. Guests will receive their video via text, email, or air drop, allowing them to relive their moment of fame and share it with friends and family. It's the perfect way to create lasting memories and make your event stand out.
In summary, our 360 video booth is the ultimate solution for creating an unforgettable event experience. With its cutting-edge technology, studio-quality lighting, custom-designed overlays, and friendly attendants, your guests will feel like Hollywood VIPs. And with the ability to share their videos via text, email, or air drop, they'll be able to relive the experience for years to come.